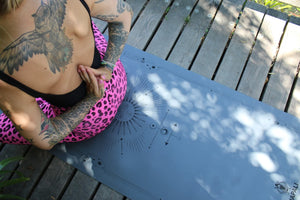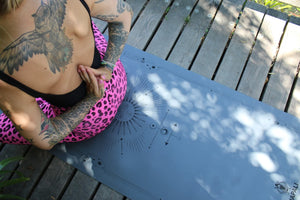 Yoga with a clear conscience
Renewable raw materials
Vegan & Fair
Your yoga shop with heart and soul
Climate neutral shipping
The base
The basis of all our yoga mats consists of environmentally friendly natural rubber.
Natural rubber is a renewable raw material, biodegradable, lies perfectly and firmly on the floor and offers the perfect cushioning for your yoga practice. Therefore, the thickest of our yoga mats is 4mm thick.
Our natural rubber comes from Southeast Asia. In order to obtain natural rubber, trunks of rubber trees are scratched. The escaping plant milk, also known as latex, is collected and then acidified with acetic acid. As a result, it coagulates and can be skimmed off for further transport and processed into various products.
---
How exactly do I wash my microfiber yoga mat?
You can easily wash your microfibre yoga mat in the washing machine at max. 30°. Very important: WITHOUT or with the lowest spin cycle.
You can use detergent, but preferably only a few drops. (No fabric softener)
You can just hang it up outside to dry and it'll be like new again.
Alternatively, you can just shower them off in the bathtub.
---
Napali Yogamats - product development
All Napali designs (except the 2 designs together with Cosmic Collage from Mexico) are made by me in Ingolstadt, with a lot
Love and mindfulness.
My aim is to design yoga mats that give you self-confidence. You should feel completely comfortable on your yoga mat, whether in your own living room or in a well-attended yoga class. Your yoga mat should be your place of safety and self-love.
---
Sustainability
I take sustainability into account at all levels as much as possible. A fair production partner, materials that are as natural as possible from renewable raw materials and functionality play a major role in the development of Napali-Yogamats products.
However, you should be aware that natural rubber is grown in Asia and even if it is biodegradable, there is still an ecological footprint. No matter how you twist and turn it, the rubber comes from Asia.
The yoga mats are also manufactured in Asia, for the simple reason that there is simply no manufacturer in Europe who produces microfibre yoga mats in combination with a natural rubber base.
The company in which my products are produced has been thoroughly checked by me and meets European standards in all respects.
---
I'm slipping on my microfiber yoga mat, what can I do?
It is quite normal that you need the first 1-2 sun salutations on your microfiber yoga mat to get the perfect grip.
Your hands don't have to be soaking wet either for the perfect grip to develop. Warm hands are enough to be super happy with this yoga mat.
Feel free to try a yoga session. It feels wonderfully soft and as soon as you start practicing for a few minutes you have the perfect grip.
Tip: Activate your Hasta-Bandha and Pada-Bandha right at the beginning of your yoga class, this will activate your muscles, you will warm up faster and will not slip away even if your hands are still very dry.
SOS tip: take a spray bottle and slightly moisten the yoga mat in the hand and foot area before your yoga session.
---
How long does delivery take?
To protect the environment, I send the yoga mats twice a week, on Mondays and Thursdays.
Your delivery will be with you within 3-5 working days throughout Germany.If you need your yoga mat faster, simply indicate how urgent it is in your order
Deliveries to Austria take about 4-5 working days.
Switzerland also usually 5 working days, but unfortunately deliveries have been delayed since Corona, so that delivery times of up to 3 weeks have to be expected in some cases.
---
Did you know?
All surfaces of our yoga mats are pressed with the natural rubber base. That means there are NO toxic adhesives in your yoga mat!
Lovely, isn't it?
---
You want to be a Napali Ambassador?
Are you excited about our yoga mats?
Are you a yoga teacher and even own your own yoga studio?
Are you regularly active on social media channels, Instagram and Facebook?
Would you like to regularly post cool pictures with our yoga mats?
You can answer our questions with YES? Then feel free to contact us and benefit from the following advantages as a Napali Ambassador:
You'll get a 25% discount on all Napali products.
If you want, you can become a model in one of our professional photo shoots.
You have the option to write guest posts.
You will be the first to receive information about new products and discounts for your yoga students.
We link you to your website or blog
We promote your events on our social media channels
Interested? We look forward to hearing from you!
Write us an email at: info@napali-yogamats.com with a little information about yourself and your Instagram account
Let's grow together!
---
Do you have any other questions? Send me a message!
.
This area currently has no content. Add content to this area from the sidebar.